Domestic and Commercial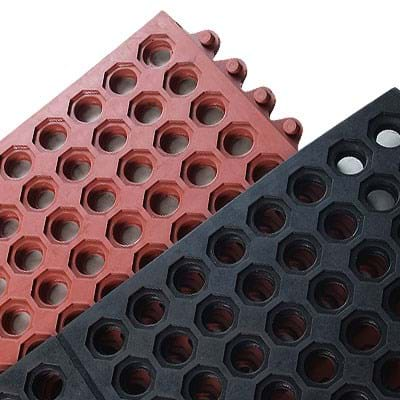 Our extensive and versatile range of Domestics and Commercial rubber flooring can provide practical solutions capable of use in a number of areas-entrances, entrances, doorways, walkways, workstations, service counters, work benches, food processing areas, shower rooms, laundries, kitchens, hospitality, snowy resorts etc.
Many of our products are suitable for use in both wet and dry areas.​
Our domestics and commercial rubber flooring range includes:
Textured Sheeting: with large variety of profile such as, Big Rib, Fine Rib, Chequerplate Rubber, Herringbone, Pyramid, Small and Large Stud, Kleenrite, Marbleised,etc. Mainly used as flooring at corridors, hallways, workstations, offices, service counters…
Anti-Fatigue Mats: are used to decrease foot and lower limb disorders for workers who stand in one position for long periods on a hard surface (e.g. cement floors). An anti-fatigue mats add a bit of cushioning and support between feet and the floor.
Anti-Slip Mats: minimize the risk of slips and increase workplace safety level. Different sizes and designs are available.
Office and Door Entrance Mats: brush and scrape dirt from shoes. These mats are available in different size, shapes and designs.