Industrial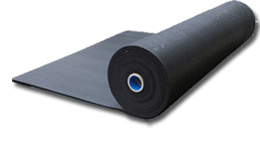 Industrial Rubber Sheeting is divided into a large range of specialised products as listed below.
Natural Rubber Sheets: Have excellent adhesion to metals, high tear strength and mechanical properties. It is extremely waterproof, is flexible and can stretch. Uses include gaskets, seals, work bench tops and any application where reasonable abrasion resistance, compression and rebound properties are required.
Natural Rubber Insertion: Is also made with a strong polymer or cotton ply layered between the rubbers to give better tear strength. This is used for gaskets and situations where extra support is needed to avoid stretching, e.g. 1/ply, 2/ply, 4/ply.
Neoprene Rubber Sheets: This is superior to Natural rubber in ozone tolerance and weathering. Neoprene rubber has moderate resistance to diluted petroleum based fluids and acids. Also suitable for gasket making and bumper strips. It is NOT suitable for oxidising acid, ketene, chlorinated, aromatic and nitro hydrocarbons.
EPDM Rubber Sheets: Outstanding in ozone heat, aging temperature resistant and can be used in basic chemical and in acid environment. Highly recommended for outdoor use.
Nitrile Rubber Sheets: Is a superior rubber to Neoprene, resistant to oils and petroleum based fluids, wearing resistance and anti-aging. Can also be used for seals and gaskets.
SBR Rubber Sheets: Abrasion resistant and good aging stability.
Butyl Sheets: High performance in chemical and heat resistant, but poor oil resistance. It can be used in linings for chemical pipes, mixing tanks, gaskets etc.
Textured Rubber Sheets: Many profile selections, styles, widths and thicknesses are available. Mainly used as flooring in buses, corridors, hallways, workstations and transport van flooring etc.
Various other types such as Chlorinated Polyethylene, Hypalon, Silicon, Viton etc. are available on the market, as the demand for these products is limited we do not carry them in stock.